You can find a lot of Digital Voice Recorders on shop. It's difficult to choose. Often you are going to buy the voice recorder you see in the closer and comfortable shop. This list that I propose you is my personal list. Voice Recorders that I use in my job, in the Radio. This blog is in Italian language, but I try to write something in English to practice the writing. Sorry for my poor english! So, if you want correct me I said you "Thank you very much!"
So, you are here. You are looking for digital voice recorders to record some sound or an interview. Your smartphone is not enough. You need more.
Voice recorders are not strictly reserved for professional reporters. They can also come quite handy during a work meeting, in a classroom, or for anyone looking for better sound recording quality than a commonly used smartphone can offer.
Zoom H4nsp
In my opinion this is the best digital audio recorder in the world. At least if you use it professionally is the best.
I think Zoom H4n is best than major brother Zoom H6 . It is true portable studio. Personally, I appreciate the microphones of this recorder. They are excellent. They have a very good sensitivity and are staggered. In this way they lead to an actual stereo sound.
The Zoom H4NPRO
is weighs. If you'll buy you need practice for recording. I advice you don't improvise. If you want to have good results you have to know how to behave in different situations. The strength, but also the defect, is the manual controll. The Zoom H4N is a voice recorder without automation. I suggest you take some testing before the debut. If you are wrong you risk don't record your voice. Pay attention!
THE ZOOM H4N
The gold standard in portable recording
TASCAM DR-40
The Tascam is among the best brand manufacturer of recorders. But, in my opinion, best products are the recorders like the Tascam DP-32SD Portastudio Digital It's
not portable recorders. This recorder has the best quality / price / performance.
However on portable recorders, the company puts in all his experience. The Tascam DR-40
is the equivalent range of the Zoom.
The audio recording of Tascam and Zoom is very similar. Often is difficult to understand the differences. I don't like the plasticky case of Tascam. I don't understand why they use. It seems like a toy. It's true, the costs is less than Zoom but it is not free.
If you use it for only audio interviews the Tascam is a great product.
Zoom H2n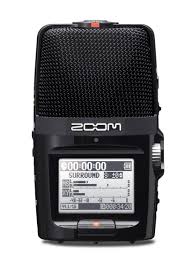 The Zoom H2N
is the small voice recorder of the Korean company. The digital voice recorder is very good for has recently evolved and is ideal for those with weight problems and space. Zoom H2N can be added to cameras. I like it!
Yamaha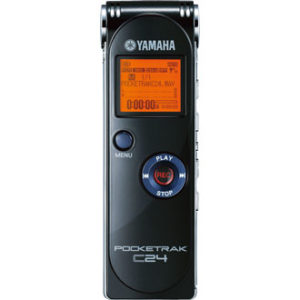 The Yamaha logo is composed of three tuning forks. And this in the audio world is important. I personally use the Pochetrak C24. It is a small recorder, light and practical. It works at the best, in every conditions. The cut option cuts the high and low sounds. You just press Rec button and You can take record without worrying about anything.
Unfortunatly, at the moment is not available.
Sony-ICDPX333
Sony offers portable recorder at good price. Petty cash is something useful if you have forgotten your headset, but it is unlikely you will make a continuous listening through a recorder, it is not made for this. At least (I hope) you will not do with this.
The price is his point loud and the memory of 4 gigabytes is remarkable, but it is the most limited of all recorders up to this point. Sony ICDPX333 only records in mp3 and reaches a maximum of 192kbps. A limit only if you think you need more quality and if you must edit your recorded. Even for this recorder just press Rec and take relax in conversation.
Or you can buy Sony ICD-UX533 Registratore Vocale Portatile, Nero
—
I was able to verify that some people use digital voice recorder to spy friends or enemy, or to record private conversations. I think is not correct to do this. But you take attention by law. In some State is illegal, too. In Italy you can record what you want but you cannot share the record without consent of the speaker. You pay attention! Take care! And take information about the laws of your Country.
The readers asked me some opinion
Some readers of this blog asked me some opinion. This article has been very successful in Italy and for this reason I decided to translate in English.
I've never used the following digital voice recorders. I never heard the recording. So my judgment is partial and is based on what you can read and see on paper. But maybe these voice recorders also meet your requirements.
Voice recorders Zoom
After so many years with only two recorders, the Zoom H2 and Zoom H4, in recent years, Zoom launched more recorders with different price and power. In my opinion the brand is the best.
Zoom H1
The Zoom H1/MB Registratore Digitale
belongs to the family based recorders. It has a cost and it seems to keep all the qualities of its bigger brothers. The thing that I like is dedicated to the microphones protection. Which makes me imagine a battle recorder. Although it is always good to take care of condenser microphones.
Zoom H6
If you asked me if I would buy this recorder, my answer will be, No! If I should to record 4 instruments, I would prefer to buy a mixer and would to record the output of the mixer. There are some readers who disagree to me. I know that the mixer is not portable recorder. Nut I think the cost is expensive. The Zoom H6 Records tracks from Zoom directly from the cable are mono tracks. They need to be edited. But this is another history.
Zoom H5
The Zoom H5
is an intermediate audio recorder. Good opportunities and good price. The design is very thin. The microphones are highlighted.
In my opinion the true innovation of Zoom H5 seems the microphone interchangeability. In fact, for Zoom H5 or H6 you can buy Zoom SGH-6 Microphone
. The SGH-6 is a directional microphone that picks up sounds only in the direction which is pointed. Very intersting! I hope to use soon!
Portable voice recorders Tascam
During my life I saw Tascam in every theaters, recording studios, and professional audio studios. But in portable voice recorders I think they can do more and more! I must admit they offer very good price.
Tascam DR-22
The Tascam DR-22WL
seems an interesting portable digital recorder. The wifi allows to transfer the files without the use of wires. And you can share via email or social (after registration, by phone or public network). This option can be fun and profitable. But I don't trust the recorders "that you can use also …" something else. Then, I read a bad feedback of those who use the recorder. He write that during the recording you can not touch, to avoid disturbing noises. I have no evidence about. But if it's true I think is a big problem.
Tascam DR-05
The Tascam DR-05 appears to offer a lot more professional options of the DR-22 Tascam. Tascam DR-05 Record in wav, and in mp3. It has microfone integrated omnidirectional. You can record with automatic or manual settings, control the gain or operate the limiter to prevent clipping.
On paper, the quality / price is good.
Some might even stumble on the sul Tascam DR-05 VER 2
.
From what I read on the data with version 2 you can record audio on a base already recorded on the audio recorder. You maintain the original audio. I think this is not god job. I prefer to record two tracks separately. And then editing with audio software. On both recorders you can insert an external microphone with mini jack.
Audio recorders Olympus
I have never used Olympus recorders. But you can find everywhere the Olympus brand. Olympus have a lot of professional dictation And I think I can suggest for university student and professional reporters.
Olympus WS-853
The Olympus WS-853
is simple and small recorder. I think is excellent option can expand the SD card memory up to 32 Gb. Type over 2000 hours of recording it mean absurd numbers. After you have registered below (or put together in a more moments) 83 days in a row of audio, how many days you will need to edit and shared recorded type?
Olympus LS
The Olympus LS-12
or the next Olympus audio recorder Olympus LS-14 have recording quality and the prices of them competitors.
As the Olympus LS-100 is equivalent to recorders since proposed here. But if you have a very good budget the best is Olympus DS-7000
---
This post is not sponsored and I have no connection with the brands you found in. The links send you at my Amazon affiliate program Amazon.
However, I repeat that the proposal of the post comes from the use and professional staff that I taked in my life. And also by the opinions exchanged with other professionals collega in the audio industry. I have no business selling of these products.